"A record store born in the US of A. Currently, the store's collaboration with the artist "CAT" is creating a buzz."

— The World Ends with You manual description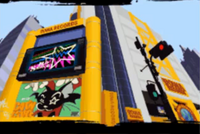 Tower Records is a location in Shibuya that appears in The World Ends with You series. In the original game, Tower Records uses the alias Towa Records. From The Animation forward, it uses its real world name.
In the first game, it is connected to Cadoi City and Miyashita Park Underpass.
In NEO: The World Ends with You, it is connected to Spain Hill and Cat Street. Cadoi City is now merged into the Tower Records district and now has a Vegelovers store and a garagara store.
Tower Records consists of a large yellow and red music store overlooking a thin road. There is a large screen for advertisements - in the first game, usually this is for CAT's new album, CAT N CORE, due to their collaboration with CAT.
Shops
[
]
The World Ends with You

[

]

There is only one shop in the Towa Records area which has the same name as the district, Towa Records. The shopkeeper is named Yoji Iwata. Cosmic Corner owner Shinta Iwata and Shibu Q-Heads 3F shopkeeper Shigemori Iwata are his brothers.
Level 1 friendship
(Entering the shop) Hey there.
You sure seems like you love music.
Thanks.
(Upon buying) Funky pick, man.
(Upon leaving) Thanks, man!
Level 3 friendship
(Entering the shop) Hey there. How's it going?
I write the store's CD reviews. Check them out sometimes, man.
Thanks! I will see you, man.
Thanks man, I think you'll be jazzed by this one.
(Upon leaving) Thanks, man! See you soon.
Funky stuff, man! I'll let you in on something, but keep it on the D-L, yeah?
Events
[
]
The World Ends with You

[

]
The mission of Shiki, Day 4 was reaching Towa Records in no time limit. Rhyme is erased here while pushing Beat out of the way of a Shark Noise's attack. It turned out to be a trap set by the Harrier Reapers Uzuki and Kariya.
Beat first attacks Neku and Joshua as a Reaper on Joshua, Day 3. Neku learns Sanae Hanekoma is CAT here on Joshua, Day 5.
The goal of Beat, Day 4 is to crack Kariya's box puzzle and reach him at Towa Records. He and Uzuki are fought here.
Trivia
[
]
According to the "War of flyers" Thought Fragments, the Towa Records and AMX stores have a rivalry, constantly trying to one-up each other by posting passionate reviews about new stocks in their flyers.