"We've got some crazy cats headed our way."
This article contains information pertaining to unreleased content. It may include inaccurate information and is still under construction.

The World Ends with You: The Animation (すばらしきこのせかいThe Animation) is an anime series adaptation of The World Ends With You video game. The original team that worked on The World Ends With You will be returning to work on the animation.[1]
First intended for release in January 2021, it was delayed until April 9, 2021. The anime will air every Saturday early morning at 1:25 a.m. (JST) on Japan's MBS / TBS 28 stations, during the "Super Animeism" block. The first episode is titled "Grim Reaper Game" (「死神ゲーム」).
Prior to the anime debut, a special broadcast will air on April 2, 2021 titled "The World Ends with You: The Animation Special Program" (「すばらしきこのせかいThe Animation放送直前特番」放送), also in the "Super Animeism" block.
The series will simulcast exclusively on Funimation.
Race through the streets of Shibuya and survive the seven-day Reapers' Game!
Neku awakens in the middle of Shibuya's bustling Scramble Crossing with no memory of how he got there. Little does he know he's been transported to an alternate plane of existence known as the Underground (UG). Now an unwilling participant in the mysterious "Reapers' Game," Neku must partner up with a girl named Shiki in order to survive. Together, they complete missions and defeat monsters known as "Noise" as they gradually uncover the true nature of this twisted Game.
"There's only one way to stay alive in Shibuya: trust your partner."
Will they survive the Reapers' Game?
The Animation was announced on June 25, 2020, through The World Ends With You's promotional Twitter account.[2] Prior to this point, key art was released teasing the announcement. More information was later shared the following month at Anime Expo.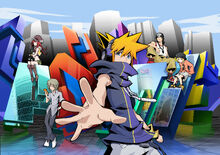 On July 27, 2020, the music production was announced to be fully complete.[3]
On September 18, 2020, a brief preview of the first episode was premiered on the MBS and TBS stations (it can still be viewed here). It was followed by a 7 Days Campaign on the promotional twitter account where missions will be given out each day for seven days. The more people that complete the missions, the more profile icons they will release.
The World Ends with You The Animation/Gallery
Main article: Episodes
Episode
Title
Air Date
Image
1
Grim Reaper Game
死神ゲーム
April 9, 2021
2
Unannounced
April 16, 2021
Community content is available under
CC-BY-SA
unless otherwise noted.