The World Ends with You: Final Remix is an enhanced port of The World Ends with You that is exclusive to the Nintendo Switch. However, it is not necessarily the definitive version of the game as some prefer the DS version due to many reasons, although it is generally agreed that Final Remix is an improvement over The World Ends with You -Solo Remix-, which Final Remix uses as the coding basis.
Final Remix sees the return of the story and characters of the original game and the redrawn graphics seen in The World Ends with You -Solo Remix- and The World Ends with You -Live Remix-, as well as introduces a new epilogue called A New Day.
The game is primarily singleplayer-oriented, though Final Remix is unique in that it allows up to two players to engage in combat together in co-op mode. In singleplayer mode, the game can be played using either the Joy-Con controllers or the Nintendo Switch's touch screen. In the two-player co-op mode, two players use one Joy-Con controller each to control Neku and his partner in battle, respectively.[1] The player controlling Neku is also the one who controls party movement in the overworld, advances dialogue and text, controls the Phone Menu, and interacts with other game elements, such as scanning the environment, shopping at stores, and influencing Reaper Creeper.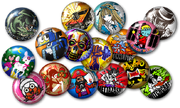 Many new remixes of songs from the original DS version, as well as new ones.
A variety of new pins.
Cooperative multiplayer in conjunction with new Joy-Con controls.
A new story segment, A New Day.
Brand new Dissonance Noise.
Main article: A New Day
A new story segment was added with about three days' worth of content. It can be unlocked by completing challenges on the final day of each week. The story follows Neku and Beat in an Expert Mode run by Coco Atarashi. It is much more difficult than the rest of the game, mostly due to new modifications on each battle that do things such as decreasing Neku's health or multiplying Noise. It also heavily teases a sequel, which was announced on November 23rd, 2020.
Final Remix released in Japan on September 27, 2018, while its worldwide release elsewhere was October 12th, 2018. Its MSRP in the US is $49.99 USD.[2][3]
The World Ends with You: Final Remix received "generally favorable" reviews on Metacritic getting a metascore of 77/100 based on 50 critic reviews.[4]
Final Remix has a USK rating of 12 and older, while the original game was only rated with 6 and older.
At some point in its beta when it was first announced in a Nintendo Direct, partners had their attack system from the DS version, although Shiki was the only one shown using her cards. However, this was inexplicably removed in the final version.
Community content is available under
CC-BY-SA
unless otherwise noted.