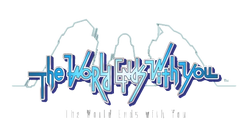 The World Ends with You, known in Japan as It's a Wonderful World (すばらしきこのせかい Subarashiki Kono Sekai) is an action RPG series starting on the Nintendo DS. It was developed by the Kingdom Hearts team, Square Enix, and Jupiter. The character designs are by Tetsuya Nomura and Gen Kobayashi. The distinctive art style is inspired by the aesthetics of whatever Shibuya youth culture is at the current time.
The original game was remade for both mobile devices and the Nintendo Switch under the names Solo Remix and Final Remix, respectively.
Thirteen years after the first game, a sequel was announced, NEO: The World Ends with You.
The first game has sold 43,000 copies in the US during the first week and a half since its release (April 22, 2008 through May 3, 2008) (see Official NPD Data for April 2008). Note that other data sources report sales numbers twice higher (e.g., see VGChartz), but they are not believed to be reliable.
The game's music in particular has been well-received and was released over four albums: The World Ends with You Original Soundtrack, Subarashiki Kono Sekai + The World Ends with You, Subarashiki Kono Sekai -Crossover-, and the Subarashiki Kono Sekai Crossover ~Tribute. Several songs also appeared in The Death March album.
The World Ends with You is well known for its unique gameplay styles. In the original version, two characters are controlled at once. Neku is played on the bottom touch screen with his partner on the top screen using either the D-Pad or face buttons.
Solo Remix and Final Remix have Neku as the primary playable character. His partner can be activated to do a singular attack. Final Remix also features a Co-op mode allowing the partner to be controlled again.
In all gameplay styles, the different characters need to attack in tandem to boost attack and raise sync.
Due to its unique gameplay style, The World Ends with You has often received criticism for being difficult for newcomers. However, those who stuck with the game have often praised the game for its unique take on the standard action RPG formula.
The game's art style, music, and story are near universally praised and are often the largest contributing factors to most review scores.
The World Ends with You Live Remix was a short-lived mobile social networking game. It played very similarly to Solo Remix with the key distinction of being played in portrait view.
The World Ends with You The Animation is an anime adaptation of the first game.
Community content is available under
CC-BY-SA
unless otherwise noted.