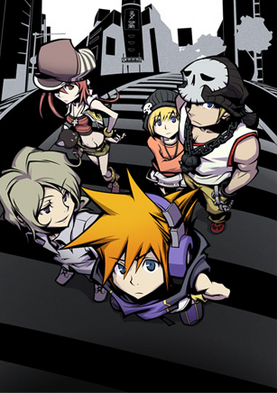 This article lists the main characters of The World Ends with You.
Sanae Hanekoma - Hanekoma (also known as Mr. H) acts like a guardian of the players, and always makes sure that the game is fair and everyone follows the rules. He is a sort of mentor to Joshua. He also runs a cafe called WildKat.
Mr. Mew - Mr. Mew is Shiki's homemade stuffed animal, which Shiki animated using psychomancy. She uses him as her weapon in battle.
Eri - Eri is Shiki's best friend. Shiki has a picture of her and Eri on her phone.
Sota - Sota is a player, and is Nao's boyfriend and partner. He is very protective of Nao, but has a kind heart.
Nao - Nao is a player, and is Sota's girlfriend and partner. She is a pure-hearted girl.
Mina - Mina is a teenage girl. She likes to be helpful, and is a big fan of the Prince.
Ai - Ai is a teenage girl. She has a crush on Makoto, and won't let anyone get in the way of her romance with him.
Makoto - Makoto is the one held responsible for making the Red Skull pins popular, and also starts a shop called "Shadow Ramen".
Shuto Dan - Shuto (also known as Shooter) is an avid Tin Pin Slammer fan, and is the Number One ranked seed. He teaches Neku how to play Tin Pin Slammer.
Itaru "Yammer" Yokoyamada - Yammer is also a big Tin Pin Slammer fan, though not as skilled a Shooter. He uses modded Pins of questionable legality during matches.
"Shrimp" - "Shrimp" is Makoto's boss, and relies on Reaper Creeper to make almost all his decisions.
Eiji Oji - Or also commonly referred to as "The Prince of Ennui", Eiji is a popular individual in Shibuya. He has a blog named "F Everything" (in which 'F' means 'Fabulous'). This blog is popular among the mainstream of the RG and which is said to receive about 100,000 hits per day.
Pin Prof - The Pin Prof is a legendary Tin Pin Slammer player.
Vice Wizard of Slam - The Vice Wizard of Slam is one of the creators of Tin Pin.
Wizard of Slam - The Wizard of Slam, Shinji Hashimoto, is The Producer of Tin Pin Slammer.
Tsugumi Matsune - Tsugumi Matsune is a mysterious girl that appears at the end of Solo Remix and in A New Day. She serves as a tie-in to Neo: The World Ends with You.
Note: Clicking on any of the shop names will take you to the Shop List. There are not yet individual pages for the shops, though that may change.
Community content is available under
CC-BY-SA
unless otherwise noted.