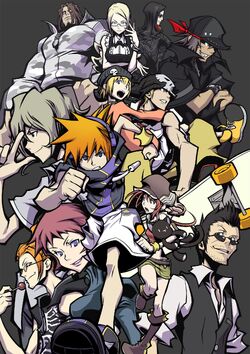 This article lists the characters of The World Ends with You.
Main Characters
[
]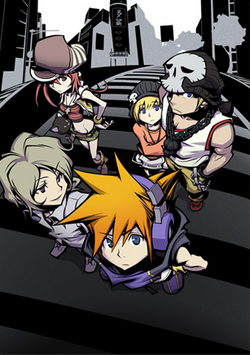 Reapers
[
]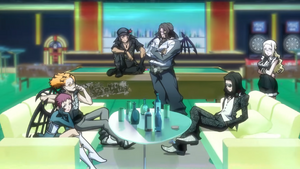 Uzuki Yashiro - Uzuki Yashiro is a short-tempered and self-centered Reaper focused intently on being promoted to an Officer or higher. Throughout the game's story, she shows vicious tendencies toward Players; however, she does apologize to Beat and Neku at one point in Week 3. Koki Kariya is arguably her best friend, and the two are most often seen together.
777- 777 is a harrier Reaper, and is also the leader of the three-piece band Def Märch, which also features support reapers Tenho and BJ.
Futoshi - Futoshi is the tech for Def Märch, 777's band (Note: is only a Reaper in The Animation).
Koki Kariya - Koki Kariya is a very laid-back and carefree Reaper, spending much of his time making up 'games' to play with his partner, Uzuki Yashiro. Kariya is shown to be not entirely villainous, as he does help Neku and Beat, and has Yashiro refrain from attacking them several times. He is always seen eating a lollipop.
Yodai Higashizawa - Yodai Higashizawa is the Game Master (initially by proxy) of Week 1. He often makes food analogies when referring to many situations as well as Players. He is the first to note Shiki's jealousy towards Eri, and causes her to think about this. Higashizawa's Noise form, Ovis Cantus, is a bipedal ram that specializes in close-range attacks. In Another Day, Higashizawa co-created Tin Pin Slammer.
Sho Minamimoto - Sho Minamimoto, originally a Reaper, was the youngest Officer in Reaper history and noted to be a genius. He is obsessed with math and enjoys making large heaps of metal and trash scattered throughout the underground. Minamimoto is erased in Week 2, but returns when he is revived through Taboo with the help of Sanae Hanekoma. After being erased again, he is again revived by Coco to be Neku's new partner.
Mitsuki Konishi - Mitsuki Konishi acts like a secretary to the Conductor, Megumi Kitaniji, and specializes in analysis and forming plans. She is the Game Master of Week 3, and hides within Beat's shadow for its duration; her Noise form, Tigris Cantus, resembles a winged, humanoid tigress.
Megumi Kitaniji - Megumi Kitaniji is the Conductor of the Reapers, and one of the most powerful in their ranks. Prior to the story's start, he initiates a Game with the Composer that would decide whether or not the Composer would destroy Shibuya. He pretends that the Composer is not absent from the UG much of the time. Kitaniji has two Noise forms: Anguis Cantus, a large, red serpent, and Draco Cantus, a dragon-like serpent.
Coco Atarashi - Coco is a Reaper who did not appear in the original DS version. She appears in Solo Remix as the secret shopkeeper. She also appeared in Live Remix as a guide character. Coco later played a major role in A New Day in Final Remix. She speaks with abbreviations often used in texting. Over the course of A New Day, Coco is shown to have immense power with abilities that transcend almost every other Reaper.
Other
[
]
Sanae Hanekoma - Hanekoma (also known as Mr. H) acts like a guardian of the players, and always makes sure that the game is fair and everyone follows the rules. He is a sort of mentor to Joshua. He also runs a cafe called WildKat.
Mr. Mew - Mr. Mew is Shiki's homemade stuffed animal, which Shiki animated using psychomancy. She uses him as her weapon in battle.
Eri - Eri is Shiki's best friend. Shiki has a picture of her and Eri on her phone.
Sota Honjo - Sota is a player, and is Nao's boyfriend and partner. He is very protective of Nao, but has a kind heart.
Nao - Nao is a player, and is Sota's girlfriend and partner. She is a pure-hearted girl.
Mina - Mina is a teenage girl. She likes to be helpful, and is a big fan of the Prince.
Ai - Ai is a teenage girl. She has a crush on Makoto, and won't let anyone get in the way of her romance with him.
Makoto Miki - Makoto is the one held responsible for making the Red Skull pins popular, and also starts a shop called "Shadow Ramen".
Shuto Dan - Shuto (also known as Shooter) is an avid Tin Pin Slammer fan, and is the Number One ranked seed. He teaches Neku how to play Tin Pin Slammer.
Itaru "Yammer" Yokoyamada - Yammer is also a big Tin Pin Slammer fan, though not as skilled a Shooter. He uses modded Pins of questionable legality during matches.
"Shrimp" - "Shrimp" is Makoto's boss, and relies on Reaper Creeper to make almost all his decisions.
Eiji Oji - Or also commonly referred to as "The Prince of Ennui", Eiji is a popular individual in Shibuya. He has a blog named "F Everything" (in which 'F' means 'Fabulous'). This blog is popular among the mainstream of the RG and which is said to receive about 100,000 hits per day.
Pin Prof - The Pin Prof is a legendary Tin Pin Slammer player.
Vice Wizard of Slam - The Vice Wizard of Slam is one of the creators of Tin Pin.
Wizard of Slam - The Wizard of Slam, Shinji Hashimoto, is The Producer of Tin Pin Slammer.
Tsugumi Matsunae - Tsugumi Matsune is a mysterious girl that appears at the end of Solo Remix and in A New Day. She serves as a tie-in to NEO: The World Ends with You.
Shopkeepers
[
]
Rayca Hoshi - Owner of

Pavo Real Stationside

. She wears a Pegaso outfit instead of a Pavo Real one.
Yuu Narumi - Owner of

KuraKura

. She wears a Gatito outfit.
Rikako Toda - Owner of

Sunshine Stationside

.
Ayu Hamaguchi - Owner of

D+B 104

.
Miki Kosaka - Owner of

Wild Boar 104

.
Yumi Sheena - Owner of

Mus Rattus I

.
Aily Ueno - Owner of

Edoga the Shop

. She wears a Pavo Real outfit, despite not selling any Pavo Real items.
Ken Doi - Owner of

Ramen Don

. Referred to as "Sebastian" by Eiji Oji during Week 2 Day 3.
Shinta Iwata - Owner of

Cosmic Corner

. Brother to Shigemori and Yoji.
Makoto Miki (Mick) - Owner of

Shadow Ramen

. As the friendship gauge grows, he gets more concerned that Neku is hitting on him.
Princess K - Owner of

Lapin Angelique

. She speaks in the third person.
Jun Odajima - Owner of

Dragon Couture

.
Tak Kimura - Owner of

Mus Rattus IV

.
Shigemi Konno - Owner of

Sunshine Shibukyu

. She develops a crush on Neku.
Masanori Ito - Owner of

AMX

.
Tatsuya Omura - Owner of

Shibu-Q Heads 1F

and Stride. (He is based on the director of Square Enix, Tetsuya Nomura.)
Tadafumi Sato - Owner of

Shibu-Q Heads 2F

.
Shigemori Iwata - Owner of

Shibu-Q Heads 3F

. Brother to Shinta and Yoji.
Fumiko Nishimura - Owner of

Nishimura Drugs

. She is the subject of several lustful Thought Fragments.
Yosh Ishino - Owner of

Cyco Records

.
Kyo - Owner of

Wild Boar

. He is extremely paranoid and constantly has thoughts of Neku bothering him, but once his friendship gauge is maxed, he'll secretly wish Neku wouldn't leave.
Hideki Kikuchi - Owner of

Mexican Dog

.
Anna Aoi - Owner of

Sheep Heavenly

.
Mie Suzuki - Owner of

Mus Rattus II

.
Nana Majima - Owner of

Tigre Punks

.
Tsubasa - Owner of

D+B Molco

.
Akira Yoshii - Owner of

Pegaso Atelier

.
May Kurokawa - Owner of

Bel Airplane

. She wears a Dragon Couture outfit, although her store's selection mainly offers Pegaso items. She gains a crush on Neku.
Banzai Ayanokoji - Owner of

Mind & Body Foods

. He is Shooter's grandfather.
Hikaru Koike - Owner of

Natural Puppy

.
Fumi Gotoda - Owner of

Mus Rattus III

.
HT Masuoka - Owner of

le Grand

. He wears a Jupiter of the Monkey outfit. He is also the only male shopkeeper to flirt with Neku when the friendship gauge is full.
Yoji Iwata - Owner of

Towa Records

. Brother to Shinta and Shigemori.
K1 (Keiichi) Okada - Owner of

Jupiter of the Monkey

. He speaks in rap.
Sanae Hanekoma - Owner of

WildKat

. He is also involved in the Game. Often referred to as Mr. H.
Note: Clicking on any of the shop names will take you to the Shop List. There are not yet individual pages for the shops, though that may change.