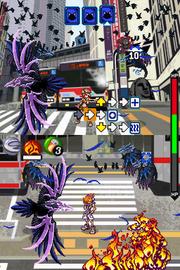 The World Ends with You's combat system is called the Stride Cross Battle System. The combat takes place across both screens on the DS, with Neku on the touchscreen and his partner on the top screen, representing the different "zones" of the same local area; the two characters battle the same enemies that exist in both "zones" simultaneously. Neku and his partner are synchronized during battle; they share the same health bar so that even if one character does not take any damage, the pair can fail in battle if the other takes too much.
A green "light puck" will pass between the characters during battle; when the character has this puck, the damage they inflict is increased. The movement of the light puck is determined by the "sync ratio" between Neku and his partner; the puck stays longer with the character with higher ratios. The player can equip Neku and his partner with clothing that can alter the light puck's speed.
The Bottom Zone
[
]
The player controls Neku by performing touchscreen actions based on the currently equipped pins. These actions may include slashing across an enemy, tapping the screen rapidly to fire bullets, or holding down on an enemy to inflict damage. Other pins need to be touched to activate them, such as for health restoration. Each pin has a limited number of uses before it must recharge for a certain time. Other pins may only be used a fixed number of times during a series of battles, and do not recharge until the battle sequence is over. Neku can only be equipped with a maximum of two pins at the game's start; this can eventually be upgraded to a maximum of six.
The Top Zone
[
]
Neku's partner on the top screen can be controlled by the player or the game itself. Each of Neku's partners has a card game-based mechanic; for example, Shiki's card game requires the player to match face-down Zener Cards. The partner can make a basic attack after the player navigates through a pathway of arrows to select one of several shown cards using the directional pad or face buttons.
By navigating to a card that fits within the card game rules, the player earns a star. Once enough stars are collected, the player can launch a powerful "Fusion" attack using both Neku and his partner through the "Harmonizer Pin" that appears on the upper right of the touchscreen (assuming that the player has not rearranged where it's displayed). The player can also help the partner character dodge attacks.