Sho Minamimoto (南師 猩, Minamimoto Shō) is the secondary antagonist in The World Ends with You and a Reaper Officer.
Personality
Edit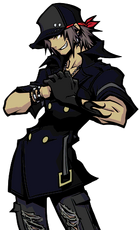 "So zetta slow!"

— Sho Minamimoto
At 18, Sho Minamimoto is the youngest Game Master of the Reapers in Shibuya and the second Game Master Neku battles. It is revealed that he excels in all areas of leadership except one—cooperation with others. More of a mathematician than a brawler, Sho loves to speak in mathematical terms and cannot refrain from making a calculation or from telling a math joke during conversation, to the point of obsession.
Arrogant and willing to show it in whatever way necessary, he ceaselessly tries to prove his value and his strength. He has a strange habit of gathering together junk heaps when playing the part of game master, claiming that they are a precisely calculated form of art; this can be viewed as performance art reflecting his views that "The world is garbage" and lacks any beauty.
Some of his quotes explained:
In Another DayEdit
In the parallel universe of Another Day, Sho Minamimoto is known as Dr. Pin and is seemingly the son of the Tin Pin founder Ken Doi. Sho is far less cruel to Neku and his companions. He gives them advice on their quest to reclaim their pins and offers them his own exclusive Player Pin for them to use, in which Ken Doi was quick to point out that the pin was easily destroyable. He later rejoins the group after making a new Slammer for Shooter Dan.
Biography
Edit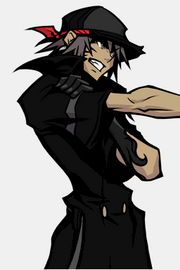 Sho Minamimoto is selected as Game Master for Week 2, though he has little regard for the rules of the Game. For most of Week 2, he does not issue missions or report to the Conductor. He also begins creating Taboo Noise, erasing Reapers and Players alike. He personally meets Neku and Joshua on several occasions, mostly in order to insult them. Each time Sho approaches, Neku receives a severe headache for reasons unknown (It is thought that because Sho and Joshua were both present when Neku was killed, seeing them both in the same place stresses his mind and puts it on the brink of relapsing and remembering what happened to him. However, since Joshua has taken this memory, he cannot recover it on his own, and was stuck with just a headache).
In his first meeting with Joshua and Neku, he expresses surprise at one of the player's presences and says that this brings him one step closer to his desired result. Although Neku believes this refers to him in some way, it is later revealed as likely due to his recognition of Joshua (the Composer) as a Player, meaning that on Day 7 he could get a second chance to kill Joshua.
After Minamimoto is defeated by Neku and Joshua, he releases a powerful Level i Flare psych, which apparently erases both himself and Joshua, though Joshua escapes to an alternate reality and Minamimoto returns in Week 3, emerging from a Taboo Noise refinery sigil in a new body with far greater powers, claiming it "surpasses the Composer's."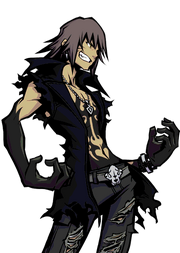 Later in Week Three, he makes his way to the Shibuya river to challenge the Composer. After a brief encounter with Neku and Beat, he is sent along by Mitsuki Konishi. After Neku and Beat defeat the GM, they find Minamimoto further along the tunnel, crushed under a car and a soda machine, presumably by Joshua, apparently dead. Later it is revealed that in the RG before the game even started, it was in fact Joshua who killed Neku in search of a Proxy, and that Minamimoto's target had been Joshua, the Composer, the whole time. Joshua explains that Minamimoto was obsessed with taking over his position as Composer and had somehow discovered what his RG self looked like even though he'd suppressed his vibe. Joshua also comments that the only reason he kept Minamimoto around was because he "really knew how to heat up a Game" but had to "retire him early."
However, all previously seen Players, Reapers, and Noise disappear entirely upon being "killed" (erased), whereas Sho's physical body remained, thus leading to the conclusion that he was just knocked out. It is currently unknown if he survived the event through the game.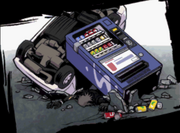 In the alternate universe of "Another Day," Sho is known as "Dr. Pin," and seems to be the apprentice/son of ramen chef and former Tin Pin founder Ken Doi. This Sho appears much less malicious than his counterpart, and freely gives advice to Shooter, Neku and company. Though the pins he develops are rather lacking, he does create a new Launcher for Shooter, taking on the appearance of his Taboo form in the process, giving him a more wreaked appearance (noting that he must have had some difficulty while creating the Omega Launcher). It is also revealed in the secret reports after the game is completed that Minamimoto's Taboo Noise experiments were actually aided secretly by Hanekoma himself. The Taboo Noise Refinery Sigil that was to revive Sho upon his death was flawed, and would not have worked had Hanekoma not gone to Udagawa and fixed it.
In the Final Remix-exclusive, A New Day, Sho was then revived by Coco Atarashi to help Neku in her plot.
Relationships
Edit
Sho does not cooperate well with others. However, he has had interactions with several other characters.
Before the Reaper's Game, Minamimoto knew of Joshua's identity as the Composer and was able to recognize the Composer in his RG form. After failing to kill the Composer, Minamimoto fled into the UG. The only reason Joshua leaves Minamimoto alive is because he "really knew how to heat up a Game."
During week 2 as the Game Master, Minamimoto had extensive interactions with Neku and Joshua, repeatedly following (and mocking) them after missions. At one point, Minamimoto saved Joshua from Taboo noise (only because he wanted to defeat Joshua personally on Day 7).
On the final day, Minamimoto is ironically crushed by one of his "art projects" thanks to Joshua's intervention.
Sho had met Konishi and nicknamed her the "Iron Frostiness" at some point. During week 1 the two interacted at the meeting, only for Sho to mock the rules and the meeting (as well as the Game Master and their boss the Conductor) and Konishi chastizing him for his mocking attitude. Konishi however has great respect for Minamimoto's genius.
On the final day, Konishi and Minamimoto interacted, and they agreed that if Sho became Composer, Konishi would become the new Conductor; in exchange, Sho could travel further into the Shibuya river.
Kitanji and Minamimoto have at the very least an understanding. Kitanji adopts a laissez faire attitude allowing Minamimoto to run the game without missions during week 2. Also Minamimoto calls Kitanji "Megs" which Kitanji shows no signs of anger to in the game (in the manga he is less than pleased).
In Another DayEdit
In the Another Day storyline, Sho is a much more friendly individual (and is believed to be Ken Doi's son). The "Tin Pin spirits" (Shooter, Neku, Joshua, Shiki, and Beat) refer to Sho as Dr. Pin (Ken Doi calls him junior) while Neku personally calls Sho a "bad man" and a "mugger." While early on he sought to join the "Tin Pin spirits," Dr. Pin assisted the group by offering a pin he created (later proven to be a dud) and at the climax of the storyline, he assisted them by creating and handing over the recently developed Slammer Omega (at the cost of looking like his Taboo form in the main game). Shooter looks up to Sho as he believes that Sho is Dr. Pin. As such, Shooter goes to him whenever he needs advice. Sho also gives him Slammer Omega after Shooter's old Slammer breaks.
Abilities
Edit
Minamimoto is able to summon Taboo Noise. Hanekoma states in early Secret Reports that Minamimoto was taught the techniques to summon Taboo Noise by a "Fallen Angel." It is later revealed that the "Fallen Angel" was in fact Hanekoma himself. Minamimoto uses his abilities at the beginning of his battle against Neku and Joshua.
When he enters the battle himself, he transforms into Leo Cantus (レオカンタス, Reo Kantasu, Latin for "singing lion"), his Noise form. Leo Cantus is an anthropomorphic (humanoid) lion. Unlike most Reapers in Noise form, Minamimoto transforms by absorbing Taboo Noise and is treated as one—he exists on only one screen, leaving the other partner to deal with the Taboo Noise he absorbed. Destroying all of the Taboo Noise causes him to revert to normal for a few seconds before he switches screens and repeats the process.
Also, unlike most Reapers who enter Noise form, Minamimoto's wings shatter prior to the fight with him, suggesting that he is no longer a Reaper. Also of interest, most Reapers only have two wings, while Minamimoto had six, a possible reference to the Seraphim (the highest ranking angels of God). As a Reaper's powers are contained in his wings, it can be assumed from the number and size of his wings that his powers as a Reaper were extremely advanced. After his defeat, Minamimoto is revived through his Taboo Noise refinery sigil, becoming a corrupted version of his former self. The corrupted portions of his skin, especially around his midsection, bears some resemblance to the Leo Noise symbol upon closer inspection. The Leo Noise symbol can also be seen as his belt buckle, similar to Higashizawa. Though he no longer summons Taboo Noise, he is vastly more powerful in this second form and recovers some HP upon time.
In both forms, he attacks primarily using energy bursts (with a cry of "Infinity!") and will teleport to evade attacks. Additionally, in his Taboo form, he will do so when struck or touched at all with the stylus, rendering psychs that require direct stylus contact with the enemy (e.g. Shockwave, Thunderstorm) useless or inaccurate.
Non-canon Appearances
Edit
Kingdom Hearts 3D: Dream Drop Distance Edit
In Kingdom Hearts 3D: Dream Drop Distance, Sho Minamimoto is an opponent the player faces in the mini-game Flick Rush; he is present in the Tin Pin Tournament along with 777, B.J., and Tenho. His team consists of a Tyranto Rex, Necho Cat, and Sudo Neku. Minamimoto is the final opponent in the Tin Pin Tournament, but he is not actually seen in the game.
Sho is dubbed "Pi-Face" by Neku and Beat and is called that on several occasions. Fittingly enough, Sho's HP in his regular form is 3141 (the first four digits of Pi), and his Week Three form has 5926 HP (the next four digits of Pi). Sho is also called the "Grim Heaper" by Neku, a play on Sho's Reaper status and the garbage piles he builds during Week Two.
The kanji for Minami-moto Shō translate literally to: South, expert, orangutan.
Like the other two Game Masters (Higashizawa and Konishi) including Kitaniji, Sho's name has the kanji affiliated with his noise form hidden inside it. In this case, one of the kanji in Sho's name is a radical in the kanji affiliated with his noise form (the 師 (moto) is part of the Japanese kanji for lion (獅).
The symbol on Leo Cantus's chest strongly resembles the Griever Insignia from Final Fantasy VIII. Minamimoto's belt buckle while in Taboo form is also reminiscent of Squall Leonhart's Griever belt buckle, also from Final Fantasy VIII. Both characters share similar lion symbolism, and both were designed by Tetsuya Nomura.
Sho has proved to be a fan-favorite and his quote "So Zetta Slow!" has become an internet meme.
Sho is the only one of all the antagonists in the game to have four threads that the player could obtain: his cap, coat, jeans, and bandanna.
In one of the old developer interviews, Tatsuya Kando stated that just because Sho likes math doesn't necessarily mean he's good at it. [ ? ] 
Tatsuya Kando, Tomohiro Hasegawa, and Takeshi Arakawa also all stated that Sho was one of their favorite characters. [ ? ] 
In Neku's death scene, Sho is shot in the right arm by Joshua. In Sho's sprite where he holds a megaphone, he is incidentally holding it in his left hand, the non-affected one.
Community content is available under
CC-BY-SA
unless otherwise noted.