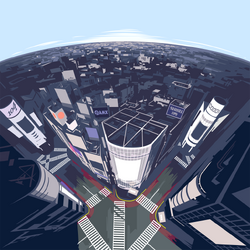 Shibuya 渋谷区 (Shibuya-ku) is the setting of The World Ends with You, its remixes: -Solo Remix-, -Live Remix-, and Final Remix, as well its sequel NEO: The World Ends with You. All of the locations in the games lie within this area.
The real-world Shibuya is one of the 23 special wards of central Tokyo, and is famous for its fashion and nightlife. The in-game map is modeled closely after the real-world Shibuya and features many of the same locations and landmarks, though almost all of the location names have been changed. For example:
In NEO: The World Ends with You and The Animation, the real names of the locations are used, the the exception of 104, which was retained because of its iconic status in the game[1].
See also
[
]
Trivia
[
]
Shibuya also appears in the Kingdom Hearts series. It is mentioned as the hometown of the TWEWY characters in Kingdom Hearts: Dream Drop Distance. A version of Shibuya also exists in a "world of fiction" called Quadratum and appears in Kingdom Hearts III. Sora is seen waking up in Shibuya, with 104 in the background and fans thought it was Neku's Shibuya but Nomura, in Kingdom Hearts III Ultimania, confirmed that Neku's world and Yozora's world are two different worlds.
Gallery
[
]
Real-world Shibuya
[
]