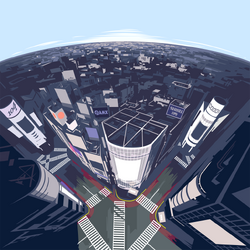 Shibuya 渋谷区 (Shibuya-ku) is the primary setting of The World Ends with You series. All of the districts in the games lie within this area. While not part of the Shibuya area in the real world, Harajuku is considered part of Shibuya's territory within The World Ends with You.
The real-world Shibuya is one of the 23 special wards of central Tokyo, and is famous for its fashion and nightlife. The in-game map is modeled closely after the real-world Shibuya and features many of the same locations and landmarks.
Story
[
]
The World Ends with You

[

]
In The World Ends with You, Shibuya is introduced as the site of a contest known as the Reapers' Game in an parallel dimension known as the Underground. Before the events of the game, the Composer of Shibuya, Yoshiya "Joshua" Kiryu, felt that humanity was becoming increasingly corrupt and clouded, and wanted to erase Shibuya from existence. Joshua's Conductor, Megumi Kitaniji, agreed, but wanted to at least save its streets and architecture. Joshua made a deal with Kitaniji to see if Kitaniji could reform Shibuya in a way that pleased him, so Kitaniji planned to brainwash humanity into a forced harmony by stripping them of their individuality. Meanwhile, Joshua decided to use a player named Neku Sakuraba to be his proxy. In the end, Kitaniji lost the deal and was erased. Seeing how Neku could not shoot him, Joshua decided to let Shibuya continue.
NEO: The World Ends with You

[

]
Not long after the first game, Angels decided to purify Shinjuku and so the city was erased from existence, with Tanzo Kubo as the Executor to carry out the purification. Being an overachiever, Kubo decided to purify Shibuya as well, although Rindo Kanade and the Wicked Twisters were able to stop him with the aid of Shinjuku's Composer, Hazuki Mikagi.
Changes
[
]
As many of the locations in Shibuya are protected under copyright, The World Ends with You often modifies these names. For The Animation, the team chose to go out and try to get the licences for nearly all of the locations that appeared. This also carried over to NEO: The World Ends with You[1]. However, the development team was still did not get permission for every location so a select few were still renamed.
Original Game
[
]
Full Series
[
]
See also
[
]
Trivia
[
]
Shibuya also (non-canonically to The World Ends with You) exists within in the Kingdom Hearts series. It is mentioned as the hometown of the TWEWY characters in Kingdom Hearts: Dream Drop Distance. At the end of the game, Neku and Shiki promise to meet up with Sora again in Shibuya.

A version of Shibuya also exists in a "world of fiction" called Quadratum and appears in Kingdom Hearts III. Nomura, in Kingdom Hearts III Ultimania, has since confirmed that Neku's world and Yozora's world are two different worlds.
Gallery
[
]
Real-world Shibuya
[
]