The Secret Box is an item that is not seen during the main game, and is only seen after finishing the game and revisiting chapters. Whenever obtaining a Secret Box, Neku will state "Oh, snap!". Each Box has an item to give; if the item is already collected, Neku will get a 500 Yen Pin instead. The items from these Secret Boxes are part of the criteria for collecting the Secret Reports of their days.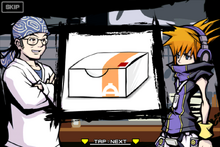 Ken Doi, the owner of Ramen Don, will give a Samurai Helm on Week 3, Day 7. If triggered again, he will give Neku a box, where Neku ponders about whether or not Ken Doi is the man responsible behind the Secret Boxes.
Community content is available under
CC-BY-SA
unless otherwise noted.