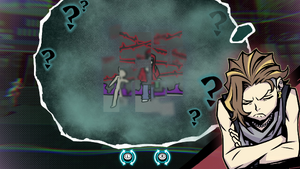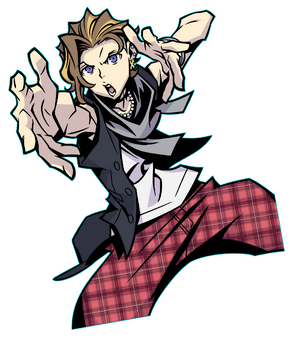 Remind (リマインド, Rimaindo) is a game mechanic in NEO: The World Ends with You. It is Fret's unique psychic power brought out by his Reaper Pin. In gameplay, the target's fuzzy memories are split into pieces which have to be put together by rotating the left and right analogue sticks.
Story
[
]
Remind can first be seen in the prologue when he involuntary reminds Rindo of the term 'psychokinesis' as he tries to remember it himself after witnessing the players using psychs in the Scramble Crossing.
Fret awakens his power again on his second day in the Reaper's Game, suddenly reminding Rindo of something his mother wanted him to buy. Minamimoto concludes it's a power and wonders what educes it. He uses it on a man in Dogenzaka to jog his memory of where MKN went, a wall Reaper pining after Shoka to let them pass, and MKN to remember what she tagged over.
Mechanics
[
]
If someone can be Reminded, their thought bubble is red. In their general area, scanning and pressing Y/◻ will begin Remind. The person's memories will be pieces of a simple drawing Fret wants to remind them about split into fuzzy pieces that need to be put together by rotating the left and right analogue sticks.
The way the control sticks need to be moved during each Remind is always the same.
Reminding @MoralManiac on Day 2: Right stick down, left stick up.
Reminding the wall Reaper on Day 2: Right stick left, left stick right.
Reminding @MKN on Day 2: Right stick right, left stick down.
See also
[
]
Gallery
[
]
Trivia
[
]
Tatsuya Kando chose the style of Remind drawings wanting variety. The Remind drawings were picked in a staff-wide competition.[1]
References
[
]