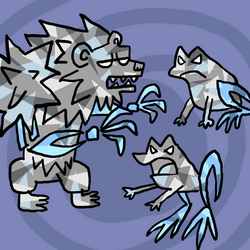 Plague Noise, known in the Japanese version as Disease Noise (ディジーズノイズ, Dijīzu noizu), are special Noise made by Game Master Shiba Miyakaze in NEO: The World Ends with You during Week Three, although some Plague wolves are seen at the end of Week 2. They are more powerful than regular Noise.
These Noise are capable of going between the UG and the RG, eroding the barrier between them and leading to an Inversion, furthering Shiba's plan of erasing Shibuya. Plague Noise can enter the minds of Players, Reapers, and RG residents and slowly eat away at their Soul, causing the victim to become paranoid and aggressive toward everything around them. Eventually, only an empty husk of the victim is left, and the Noise moves on to another. This condition is known in the UG as the Reverb, and the symptoms as perceived by the RG are dubbed Shibuya Syndrome. They can't be encountered on the field.
General Appearance
[
]
Plague Noise come in the varieties other Noise could come in (ie. scorpion, jellyfish, frog, elephant, dinosaur), but they share the appearance of a transparent frame-like structure. In this state, they are invulnerable to attack. When exposed to UV light, they turn opaque and take on a metallic appearance; they can be damaged and erased in this state.
Trivia
[
]
As more powerful Noise encountered many hours into the game, they can be seen as a parallel to Taboo Noise.