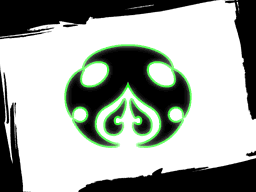 Pig Noise are a special type of Noise that only shows up only on certain days in certain areas. Each Pig Noise is green in color during a scan, but each Pig Noise icon can have many Pig Noise within it. Pig Noise often drop rare pins and are often necessary to defeat in order to get the Secret Reports. Pigs can be difficult to erase as they may have high defense or HP, and always try to escape from battle, though they will not attack the player (one species is an exception to the latter two rules).
All pigs try to move off screen, except the powerful Pig Butoh who is only encountered in Pork City. If the player allows one to go off either screen, it and all other pigs will flee from both screens at once. Therefore the best way to beat pig Noise is to use pins that either knock an enemy back, make it pause while being attacked, or equipping clothes which give the player free Fusion Stars, so the player can do a Fusion attack at the start of the battle (in remix versions, pigs are immune to fusions). Normally Neku's partner attacks will pause its movements on the bottom screen as well. This sometimes works in the remix versions with partner attacks as well. Should the player fail to defeat it, the player can simply scan for the Noise symbol again and start over. However, once the player has beaten a Pig Noise, it will not return.
Pig Noise encounters have predetermined drops and difficulty ratings independent from the player's settings. They will not appear on the player's Noise list until the player has erased them at Pork City. For players wishing to assemble a complete Lv. 1 Noise Report, it is important to make sure those fights at Pork City are done at Lv.1.
If the player uses Beat's Lv. 3 Fusion attack on any pig, it will act like it has escaped. Pig Noise are named after kinds of dances.
If there is Pig Noise in the area that the player is located in, it will oink a few seconds after touching the Player Pin to scan. The locations of Pig Noise can be found on the Pig Noise location page.
Types of Pig Noise
[
]
Each pig produces a different pin when defeated. The difficulty does not matter, because the pig will produce the same pin in each difficulty. All of the pigs are unique, therefore there are different means of defeating each one. All pigs may be found in "Another Day" on each floor of Pork City, which is necessary to complete the Noise Report.