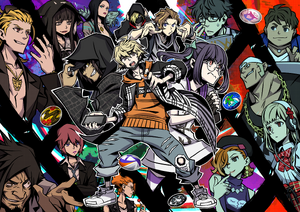 This article lists the characters of NEO: The World Ends with You.
Note: For a basic spoiler-free overview of the characters, the media kit is available here.
Player Teams
[
]
Wicked Twisters
[
]
A team of Players in the new Reapers' Game, and the protagonists of the game.
Ruinbringers
[
]
The top team in the Reapers' Game, and is also the strongest.
Kaichi "Susukichi" Susuki (VA:

Natsuki Hanae

(JP), Max Udell (EN)) - A muscular man who is actually a bit of a chatterbox, and has a surprisingly high-pitched voice when he's rambling. He also loves the board game Reversi, but views many things in a black-and-white nature.
Tsugumi Matsunae (VA:

Yuka Ozaki

(JP),

Ciara Riley Wilson

(EN)) - A mysterious girl who has powerful psych abilities. She holds a Mr. Mew plush with her. She made her first appearance at the end of both The World Ends with You Solo Remix and Final Remix as a lead in to this game.
Deep Rivers Society
[
]
A group of river enthusiasts whose game-plan is to survive by being cautious and steady-going.
Fuya Kawahara (VA:

Yoshiki Nakajima

(JP),

Adam Gold

(EN)) - The leader of the Deep Rivers Society, he relies on a "flight-over-fight" approach when dealing with conflicts during the Reapers' Game. His cowardice has actually proven useful and has helped him and his team from dropping out so far.
Variabeauties
[
]
A group of super stylists with a passion for fashion.
Kanon Tachibana (VA:

Sumire Uesaka

(JP),

Xanthe Huynh

(EN)) - The leader of the Variabeauties, she has a lot of charisma, but also has cunning wisdom, and is a skilled negotiator, helping her make up for her not-so-strong psych abilities.
Purehearts
[
]
A group of savvy social media influencers who use positive thinking and social media influencing as weapons.
Motoi Anazawa (VA:

Wataru Komada

(JP),

Nick Thurston

(EN)) - The leader of the Purehearts, his winning smile and poetic platitudes give off good vibes only, even though his superficiality and frequent use of "fancy" words can rub some people the wrong way.
Reapers
[
]
Shinjuku Reapers
[
]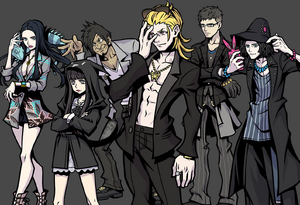 A group of Reapers from Shinjuku who came to Shibuya to oversee the Reapers' Game.
Shibuya Reapers
[
]
A group of Reapers from Shibuya who were introduced in the original game.
Koki Kariya (VA:

Anri Katsu

(JP), Andrew Kishino (EN)) - A very laid-back and carefree Reaper. He is always seen eating a lollipop. Unlike his appearance in the first game, he appears to be operating alone without Uzuki.
Uzuki Yashiro (VA:

Satomi Arai

(JP), Kate Higgins (EN)) - Although her mind was once solely focused on getting ahead, Uzuki seems to have outgrown her previous ambition for some reason or another. She no longer operates with Kariya.
Coco Atarashi (VA:

Marika Kouno

(JP),

Kitana Turnbull

(EN)) - Coco is a very young Reaper who has little interest in her Reaperly duties and often spends her time in Harajuku, sometimes even wandering outside Shibuya.
Others
[
]
Mr. Mew - Mr. Mew was originally a stuffed animal created by a girl named Shiki Misaki. He has become the mascot of the brand Gatto Nero which is taking Shibuya by storm. Mr. Mew debuted from the original game.
Neku Sakuraba - A survivor of a previous Reapers' Game, Neku was known for being antisocial and bitter about the notions of friendship. For unclear reasons and motives, he seems to be seen wandering around Shibuya during Rindo's Reapers' Game. He debuted in the original game.
NPCs
[
]
Shopkeepers
[
]