Molco
is a location in 
The World Ends With You
 and 
-Solo Remix-.
 It connects to 
Spain Hill
 and 
Cadoi City
.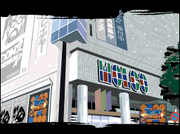 Another Day
Edit
Molco is the sign-up location for the Tin Pin Tournament in Another Day. During the preliminary rounds, the tournament is discovered to be an elaborate scam to steal the contestant's pins set up by Uzuki Yashiro, Koki Kariya and Yodai Higashizawa.
Funky Fashion Sheep Heavenly
Edit
Level 3 friendship
(Entering the shop) Hiya.
(Waiting) Feel Free to try stuff on too
(Leave without buying) Thanks!
(Upon buying something) Sweet, thanks!
(Upon leaving) Thanks! Hope you love it!
(Give an ability) That one's wicked hot .
lvl 1 Mus Rattus II
Edit
Hello... / I can help you find a specific size / Thank you... / Thank you / Thank you see you again./ That's all we have of that one. I don't know if we get any more in.
lvl 1Tigre Punks
Edit
How goes ?/ .... (He's sooo not buying.) /.... (I soooo called that) /Thanks bunches/ Thanks bunches. Later ! Later
lvl 1 D+B
Edit
Hey./...... (Window shopping?)/Yeah, later. (Window shopping) /Awright anything else?/ Thanks, man. See you later./Interested? It's pretty wild.
Community content is available under
CC-BY-SA
unless otherwise noted.