"These streets deserve better, dammit! And I'm gonna give it to 'em! GAHHH! Now I'm all fired up. better go pour this passion into my next piece!"

— MKN about graffiti
MKN (short for Mikan[1]) is a character in NEO: The World Ends with You. She is an internationally famous graffiti artist based in Shibuya known for her all-orange ensembles.
Appearance
[
]
MKN has the appearance of a default female NPC but in all orange. She wears an orange shirt, orange jacket, orange pants, and an orange cap. She wears black sunglasses. She has pale skin and pale blonde hair.
Personality
[
]
MKN is passionate about the streets and her work, looking down upon graffiti she thinks is bad or uninspired.
MKN is an anti-capitalist, spraying over graffiti of 104 Building feeling it glorifies capitalism. It is unclear if she dislikes capitalism as a whole or simply late stage capitalism.
History
[
]
NEO: The World Ends with You

[

]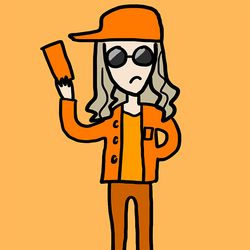 MKN's debut is in Week 1 Day 2. She graffitis over a drawing of 104 at Dogenzaka - unbeknownst to her, it was a Reapers' Game clue Rindo and Fret needed. Fret recognizes it as being her work, and Rindo looks her up on his phone to find that she has millions of hits online. Fret uses his newfound Remind powers to make someone remember she left to O-East. They find her at O-East thinking about spraying over someone else's drawing - Fret is starstruck, but Rindo tells him to Remind her. She remembers it as a drawing of 104, their last clue for that day's Game.
She can also be encountered on Week 3 Day 4 at Tower Records, during an optional sidequest. She's left her grandmother's spray paint can on a high ledge, and can't get it back. Using Shoka's Telewarp, you can retrieve it for her. Upon completion, it's revealed that she's actually the granddaughter of Tamao Sasai.
Quotes
[
]
"Is this supposed to be 104? Uh-uh, we aren't glorifying capitalism on my watch. Time to spray over it!"
Etymology
[
]
MKN's full name, Mikan, comes from the common name of the Citrus unshiu, explaining her orange ensembles.
Trivia
[
]
In the Japanese version, it is not explained why MKN does not like the 104 graffiti. In the English version, it is changed to her feeling it glorifies capitalism, possibly in order to provide a reason for her dislike of it.
References
[
]
↑ @HeyThereFellowKids: Turns out that artist calling herself MKN isn't short for "My Kooky Neighbor" after all—it's just "Mikan"! Young people sure are creative these days...