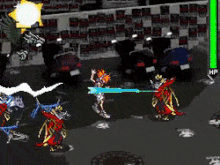 Entanglement is a Natural Puppy exclusive psych, which is activated by slashing across empty space. When activated, a chain is created, stretching across the screen along the line scratched by the user. The chain remains for a few seconds after activation. The chain can even extend off screen to the borders of the fight zone, and when it comes into contact with enemies (either because the chain was aimed for them, or Noise move into the chain's path) will damage them, move them (either out of the chain's path, or often along with the chain for continued damage), and can possibly inflict defense break as well. If a pin has more than one use, multiple chains can be used simultaneously. Its low damage output and rapid hit frequency make it useful for racking up the hit counter. The best way to use it is with a horizontal slash parallel to the enemy, ensuring that the enemy is hit the maximum amount of times rather than simply knocked away. Alternatively, some enemies are stopped in their tracks when hit with the chain, so you can follow with another series of attacks. Stationary bosses will also receive more than one attack it you hit them with the line, even with vertical slashes.
See also Lightning Bolt, a psych that is roughly similar with higher damage per hit output but does not last as long.
Final Remix introduced two new Entanglement pins with different functions: Zipzap Zipper, which is non-damaging and freezes enemies it touches instead, similar to Freeze, and Papillon Rouge, which can't inflict defense break but instead restores Neku's HP based on the amount of damage done.
| Icon | # | Name | Brand | Cls | Psych | Spec | Power | Eff | ATK200 | Lasts | Boot | Reboot | Info |
| --- | --- | --- | --- | --- | --- | --- | --- | --- | --- | --- | --- | --- | --- |
| | 031 | Love Me Tether | | A | Entanglement | Attack | 28 | 20 | 46 | 1 use | 3 | 8.5 | Slash empty space to stretch a chain along that line and impede enemy progress. Inflicts damage and sometimes Defense Break on contact. |
| | 032 | Pamper Me Tether | | A | Entanglement | Attack | 52 | 20 | 50 | 2 uses | 3 | 6 | Slash empty space to stretch a chain along that line and impede enemy progress. Inflicts damage and sometimes Defense Break on contact. |
| | 033 | Sweet Talk Tether | | A | Entanglement | Attack | 70 | 20 | 54 | 3 uses | 0 | 5 | Slash empty space to stretch a chain along that line and impede enemy progress. Inflicts damage and sometimes Defense Break on contact. |
| | 312 | Zipzap Zipper | Unbranded | A | Entanglement | | | | | 3 uses | 0 | 4 | Slash empty space to cause a chain to appear that freezes any enemies it touches. (Some enemies may be immune.) |
| | 320 | Papillon Rouge | Unbranded | A | Entanglement | Attack | 170 | 20 | 74 | 1 use | 2 | 12.1 | Slash empty space to cause a chain to appear that damages any enemy it touches while also restoring your HP. |