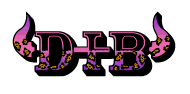 D+B, Dangerous Buffalo, is one of the 13 brands in the game. The brand represents the Ox in the Chinese Zodiac. The brand features a lot of sparkles, rhinestones, and what appears to be club wear. Some of their apparel is also cowboy themed, as is congruous with their bull theme.
D+B has two main stores; One located inside 104 building and one located in Molco. The shopkeeper in Molco is Tsubasa. D+B having a main store in 104 Building results in D+B often being the most popular brand in that area.
D+B pins mostly focus on the Piercing Pillar and Psychokinesis psychs. There are very few D+B pins in the game in comparison with most other brands.
Shiki's fusion stickers are found at D+B, as is Her Stuffed Animal item. Thus it seems Shiki is fond of this brand, however the style of D+B clothing closely matches the style of Shiki during in-game cutscenes and cinematics, which would imply that Eri wore D+B style clothing and not Shiki.
The pins Sexy D, Sexy +, and Sexy B, when viewed in the stockpile, spell out D+B.
References to the Chinese Zodiac
[
]
While the zodiac describes the Ox as a sign of the steadfast, hard working, patience, honest, and creative to those under its year, its wardrobe of party and leisure might come across as the contrary to many. In deeper introspection however, many and much of its wardrobe is that of clothing that requires a great deal of patience, expertise, and experience to work on, being that of leatherware, including leg wear and boots, heavy materials, and intricate pieces, such as bras and to even jewelry; the inclusion of many D+B outfitters allowing early access to top class leather hides and even sterling silver greatly hints that D+B is a designer brand, which is a venture that requires not just skill in the trade of couture, but also that of PR and self run business management.
Allowing for psychokinesis is much like the carnage of a charging oxen, mercilessly plowing and running over anything in its path. Its inclusion of ice based negative psyches, along with its designer party ware theme, runs along a reference to a famous auspicious belief in Chinese astrology regarding ox signs, in that if one is born under the sign of the Ox during the times of winter, much like them merely resting in the barn and being fed unlike in the toiling times of summer and spring, that such people are destined for a life of ease and little labor.
Concerning the sign's incompatibility with the Sheep, its style of sexy and promiscuous but stylish and suave would be ultimately swamped by Sheep Heavenly's baggy and all covering designs of clothes, with many a compromise to be made only with its neat line of accessories, or to ultimately modify them by cutting them short into short shorts, belly cuts, sleeveless shirts, or to wear them unconventionally, such as a tartan as a shirt skirt. Putting many combinations together brings about the sour clashing taste of gaudy, where the bagginess and the skin tight clash brings about raunchy aesthetic.
Featured Pins
[
]
Many of D+B's pins have good battle area control with pins that can affect large areas from any distance.
Ice Blow (Week 1, Day 2) and Ice Risers are excellent Piercing Pillar S pins.
Sexy D is the first Psychokinesis D+B Pin. It is ideal for completing Week 1 with ease, as it will act as the puck passer while Ice Blow or Ice Risers are rebooting.
Featured Threads
[
]
Star Cap (Week 1, Day 4) provides an easy +5 ATK for Shiki, along with a relevant ability, which will boost her power considerably during week 1.
D+B Pins
D+B Evolution Chart
D+B Threads
[
]
Id
Title
Threads slot
ATK bonus
DEF bonus
HP bonus
BRV req
Ability name
Ability unlocker
Sold by
Secret report event
034
Black Bikini
Accessory
10
10
-30
160
Shiki: Fusion ★ +3
Shiki: Sync Start +60%
D+B 104 - 104 (FSG Lvl 5)
D+B 104 - 104
032
Cowboy Boots (Red)
Footwear
12
15
126
HIT Keeper II
D+B 104 - 104 (FSG Lvl 3)
D+B 104 - 104
024
Cupid Tee
Top
2
12
45
Shiki: Fusion ★ +1
Shiki: Sync Start +20%
D+B Molco - Molco (FSG Lvl 2)
D+B Molco - Molco
036
D+B Ring
Accessory
12
2
38
50
Puck Power II
CC Boost II
D+B 104 - 104 (FSG Lvl 2)
D+B Molco - Molco
023
Denim Blouse
Top
5
38
40
More Defense Breaks II
D+B Molco - Molco (FSG Lvl 3)
D+B Molco - Molco
029
Denim Miniskirt
Bottom
9
60
125
Shiki: DEF +2
D+B 104 - 104 (FSG Lvl 1)
D+B 104 - 104
031
Knee-high Boots
Footwear
12
125
Shiki: ATK +2
Sunshine Stationside - Shibukyu Stationside (FSG Lvl 2)
D+B 104 - 104
D+B Molco - Molco
021
Knit Casquette
Headwear
4
18
Shiki: ATK +1
D+B Molco - Molco (FSG Lvl 1)
D+B Molco - Molco
027
Leather Shorts
Bottom
2
38
116
Resist Attack Breaks
Sunshine Shibukyu - Shibukyu Main Store (FSG Lvl 2)
D+B 104 - 104
030
Plaid Miniskirt
Bottom
3
23
120
Shiki: DEF +1
Sunshine Shibukyu - Shibukyu Main Store (FSG Lvl 2)
D+B 104 - 104
033
Purple Bikini
Accessory
5
5
-38
150
Shiki: Fusion ★ +2
Shiki: Sync Start +40%
D+B 104 - 104 (FSG Lvl 3)
D+B 104 - 104
025
Satin Camisole
Top
2
15
120
Shiki: DEF +1
D+B 104 - 104 (FSG Lvl 1)
D+B 104 - 104
028
Skinny Jeans (Black)
Bottom
3
30
40
Shiki: DEF +2
D+B 104 - 104 (FSG Lvl 3)
D+B 104 - 104
D+B Molco - Molco
020
Star Cap
Headwear
5
60
Shiki: Fusion ★ +1
Shiki: Sync Start +20%
D+B 104 - 104 (FSG Lvl 1)
D+B 104 - 104
D+B Molco - Molco
019
Stronger Cap
Headwear
4
25
Shiki: HP +10
D+B Molco - Molco (FSG Lvl 2)
D+B Molco - Molco
035
Studded Belt
Accessory
2
1
29
30
EXP Boost I
D+B Molco - Molco (FSG Lvl 3)
D+B Molco - Molco
022
Svelte Parka
Top
2
45
30
Shiki: ATK +2
Sunshine Stationside - Shibukyu Stationside (FSG Lvl 2)
D+B 104 - 104
D+B Molco - Molco
026
Vest-Blouse Combo
Top
6
26
123
Shiki: HP +20
D+B 104 - 104 (FSG Lvl 2)
D+B 104 - 104