"REAPER. CREEPER. If Mina has secrets that should be brought to light... go to White!"

— Ai playing Reaper Creeper
Ai (アイ, Ai) is a side character who appears a few times in the three weeks, mostly appearing next to her friend Mina.
Appearance
[
]
Ai has shoulder-length brown hair parted at the top and brown eyes. She wears what seems to be a school uniform with a white blouse, a red bow, and a green plaid skirt. She wears long black socks. Ai wears a small stud earring on her left ear.
Personality
[
]
While she is seen to be quite jealous and paranoid, as well as implied by Mina to easily jump to conclusions, she highly values her friendship with her, and is grateful for her forgiveness when they reconcile over an argument.
Story
[
]
In Week 1, she comes across Mina and Makoto chatting outside Shibu Dept. Store. From this she becomes suspicious and concludes Mina is attempting to steal Makoto, her crush.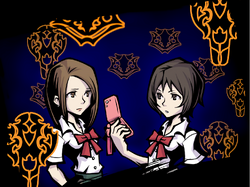 Later, she is seen in Spain Hill with her friend, acting extremely cold and frustrated. Her suppressed negative emotions attract the Noise, which in turn spawn further and worsen her mood. Eventually ,she loses her temper and confronts Mina in a game of Reaper Creeper (unknowingly assisted by Neku), in which it comes to light she believes Mina also has a crush on Makoto, which makes her feel resentful and hurt. However, Mina was simply trying to set up a date with him for Ai, and they resolve their differences. Mina gives Ai tickets to the Tin Pin Slammer slam so that Ai can ask Makoto out.
Makoto and Ai go to the slam, but unfortunately the date does not go well because Makoto is too preoccupied to enjoy Tin Pin anymore, and they leave halfway through. She is seen confiding this to Mina in Week 2.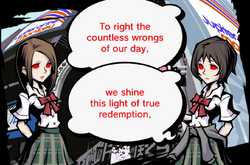 Ai is then later seen with Mina during the events of Week 3, possessed by the Red Skull Pin.
In Another Day

[

]
In "Another Day", Ai can be found by the Shiba Dept. Store for a game of Tin Pin. She wants to enter the slam-off to get closer to Eiji Oji and hopefully have him touch her when she is given the prize, even though she has never played the game before. During the slam-off, she gets many of her pins stolen with everyone else.
Later, she can be found at the Statue of Hachiko for another game with her remaining pins. The pre-game dialogue states that she and Beat have been friends "since forever" and that Ai lives in Beat's neighborhood, and he would show her his comedy material. Whether their relationship stands in the main universe or not is unknown.
Quotes
[
]
"Mina... You really didn't go to Shibu yesterday?"
"That's right. And they can see right through a lie. Because I'm onto you, you tramp. You and Makoto."
"REAPER. CREEPER. Yesterday Mina met with Makoto. And she LIED to me about it. If I'm right...GO TO WHITE!"
"What... Two tickets? How could you, Mina... You knew I liked Makoto."
"Mina... I'm so sorry... I totally got the wrong idea..."
"Hey, let me take you out to eat. It's the least I can do."
"Hmm... Could be I'm champion material. And if I win, the Prince will TOUCH ME when he hands me the prize! Omigosh omigosh omigosh!" (if Neku loses)
Gallery
[
]