The 104 Building is a district in The World Ends With You and NEO: The World Ends with You. In the first game, it connects to Dogenzaka, Shibukyu Main Store, and Scramble Crossing. In the second game, it connects to Dogenzaka, Tsutaya O-East and Scramble Crossing.
The 104 Building is a fashion landmark in Shibuya. Its huge billboards are sought after by all of the hottest brands. This area is based on 109, a department store in Shibuya, Tokyo, Japan. The store is operated by the Tokyo Mall Development (TMD), a company under the Tokyu Group (Tōkyō Kyūkō Dentetsu, "Tokyo Express Electric Railway Co.").
In the first game, this area is the target of the first mission in each chapter. Shops: 104 (D+B 104, Wild Boar 104, Mus Rattus I, Edoga the Shop)
In the second game, it has Top o' Topo, Joli bécot and Gatto Nero. The player can explore more of the entrance area as well as the second floor.
History and description
[
]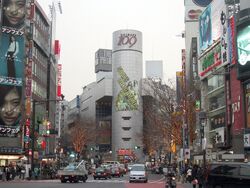 The building, located just across the street from Shibuya Stations, opened in April 1979. The architect was Minoru Takeyama. Tokyu, the building's operator, designed the building as a "Fashion Community" containing small retail stores targeting the early-30s female consumer. Tokyu intended the store to compete with Seibu Department Stores which was making inroads into the Shibuya area.
The name of the building, 109, is taken from the Japanese characters to (meaning 10) and kyu (9) as in Tokyu. The interior of the building is designed to move shoppers in a loop on each floor from the elevators past various shops. A movie theater was originally planned for the top floor, but the fire department would not grant approval due to emergency-evacuation routes not meeting appropriate standards. Although originally targeted at women in their 30s, the building later became more known as a mecca for young women from the gyaru subculture.
Trivia
[
]
Kingdom Hearts III features a version of the building also called the 104 Building in its Quadratum world.
Tosai "Fret" Furesawa calls the building "Wunafo".
In NEO, the developers received permission to call the building 109 like how the locations were renamed to their real-life locales, but they decided to stick with 104 because the number left a strong impression on players of the first game.[1]
Gallery
[
]